10/23/2006
10/20/2006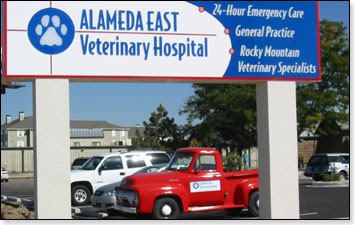 One of the requirements for graduation during vet school was a 4-week senior externship that takes place during your 4th year clinical rotations. I chose Alameda East Animal Hospital in Denver, CO - the hospital featured on Animal Planet's "Emergency Vets".
Denver itself was beautiful. I went during October, the time when leaves start to change color. I visited the Rocky Mountain National Park and saw huge mountains with snow-capped tops, surrounded at the bottom with orange, red and yellow trees.
While I was in Denver, I met a woman who adopted two Russian orphans that were born addicted to alcohol. The woman was a pilot for Delta Airlines, and while stationed in Holland, made the trip to Russia to adopt these children, one a 5-year-old girl, the other a 3-year-old boy. These children had been with her 2 years and they were the happiest children I had ever seen. Both didn't know a word of English when adopted, but were now very fluent in our native language, the girl even excelling in reading and math at her school. I had the opportunity to introduce the animal hospital to these children, and even set up a meeting between the kids and Dr. Kevin Fitzgerald of "Emergency Vets". They took several pictures and were in a world of wonder the whole time.
When I arrived at Alameda East, the staff was in transition to their new clinic - a state-of-the-art facility complete with a day-clinic, an emergency clinic and a specialist referral clinic all set up in the same huge building. This hospital had a cancer treatment room, it's own clinical pathology lab (staffed with veterinary pathologists), a dental suite, a surgial suite with 4 operating rooms with walls made of square translucent bricks that let all the light into the rooms, a separate ICU unit, a radiology department that included a CT scanner, a large break room for employees and a huge conference room for staff and doctor meetings, as well as a separate pharmacy staffed by actual human pharmacy techs. Each employee carried a key card and that was required for entry into the building and also to the back treatment area.
I spent a significant portion of my externship gossiping with the interns (7 total) and going shopping at Saks 5th Ave., where all the interns bought their makeup.
Good Times.
10/18/2006
10/11/2006
The Costs of Healthcare for your Cat

Fuming about your vet bill?

Nowadays, people are spending more money on their pets. Most of my clients aren't millionaires. When it comes to the health of our beloved felines, most of us wish (including me) that money wasn't a factor in our decisions. Unfortunately, it is a factor, and for many, it is a HUGE factor. Sometimes the cost of healthcare is THE limiting factor, which makes my job as a veterinarian more difficult because I must work with a budget AND I am expected examine, diagnose and treat patients as efficiently and effectively as possible. I tell many of my clients that if I wasn't a veterinarian, I couldn't afford the animals that I have at my house. I don't expect clients to be able drop $500 or $1000 on their cat, and I don't want clients spending their life-savings on their pet's healthcare. And of course, a client's ability to afford health services in no way reflects how much they love their cat.

If your cat becomes ill, you will spend approximately $300-400 to do a complete workup. That's just what it costs. It is costing veterinarians more money as well, as testing equipment, laboratory interpretation, and technical assistance become more and more expensive. If, in the unfortunate event you would have to take your kitty to the emergency clinic, you're looking to spend $800-1400 for diagnostics, treatment, and overnight hospitalization. And that's just the first 24 hrs.

Fortunately, there are options to make healthcare for your cat more affordable. For starters, I would HIGHLY recommend pet insurance. The premiums that you pay for this coverage are dwarfed by the high costs of healthcare. It just MAKES SENSE. Care Credit is a great option for those with mounting vet bills, but does require a credit check. This company will let you make monthly payments on vet bills if one cannot afford this healthcare up front. Care Credit offers limited interest-free payments depending upon how much healthcare is provided.

Of course, the best way to reduce healthcare costs is to practice PREVENTION. Upper respiratory infections, parasites, lower urinary tract issues, diabetes, dental disease, kidney failure and hyperthyroidism are all common conditions in cats that have the potential not only to make your feline very ill, but can also be a strain on your finances. Please talk to us about how best to prevent disease in your cat.

10/01/2006
The Making of a Cat Doctor

When I was in high school, I wanted to be a plastic surgeon. I liked science and I liked money. I liked money because my family didn't have any. When I was a junior in high school, I attended a career day at a local vet clinic. At the time, I thought veterinarians only gave shots and neutered animals. I walked into the clinic's laboratory and saw a microscope sitting on the counter. I saw blood machines, autoclaves, surgical monitors, medical charts, and a well-stocked surgical suite. I had no idea that veterinary medicine was so scientific. The complexity of practice intrigued me. From that day on, I wanted to go to college to become a veterinarian, even though veterinarians don't make a quarter the amount of money plastic surgeons make.

Hello Cat Lovers!

Welcome to our Cat Vet Clinic Blog. Our goal here is to educate and entertain you with informative articles, funny anecdotes and cool cases we've seen at the clinic.

We hope you enjoy our blog!

Dr. Cornelius =^..^=

Subscribe to Posts [Atom]